'Divorced' Dating Sites*
Along with Divorced Passions (the site you are on now), the sites listed below all focus on divorced singles. The sites listed below range from those focused on divorced dating to others focused on divorced singles chat. The primary goal is to connect people who have dealt with divorce though. Each site, regardless of the company running it, shares many of the same characteristics as many of the other sites. So, if you are looking for a great dating site focused on divorced singles, then there are a LOT available. Look below to find the one that seems like the best fit for you.

Divorced Online Personals
Where Divorced Singles Meet Online!
As part of one of the largest dating networks, Divorced Online Personals has a lot of divorced singles who are looking to meet others online before meeting in the real world. If you are serious about wanted to meet someone who understands, then join for free and see what you think.

AD

Divorced Dating Connexion
Meet Divorced Singles! Find Love Tonight!
Divorced Dating Connexion is a matchmaking service dedicated exclusively to helping people who are divorced. If you are divorced and interested in dating, join to start meeting other singles today.

Just Divorced Dating
"Take Another Chance On Love At Just Divorced Dating"
If you have experienced a marriage and a divorce, then you have more 'real life' relationship experience than most singles on dating sites. If you are looking for others who have also experienced divorce, but who are ready to date again, Just Divorced Dating has been created for people like you.

Divorced Women Dating
"Join & Find Someone New!"
It takes two to get a divorce, but if you are looking for a site that has been designed specifically to help divorced women back into the dating scene, then Divorced Women Dating is that site.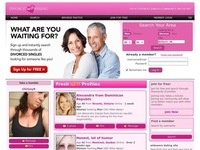 Divorced And Seeking
Sign Up And Search Through Thousands Of Divorced Singles
"The marriage may have ended but that doesn't mean your personal life has to end too. Divorced and seeking is comprised of an online community of divorcees who are ready to get back into the dating scene."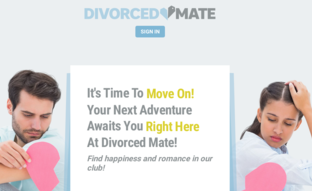 Divorced Mate
It's Time to Move on!
Once you are ready for a new relationship, the only question is where do you start first. Divorced Mate is a great looking site that will work on any device and is focused on helping to connect divorced singles. Join today and start looking for your next relationship.

Divorced Singles
Date Divorcees
Are you recently divorced and looking to get back in the dating game? If so, log in to Divorced Singles to begin exploring new dating opportunities.

Divorced Singles Club
"The Best Divorce Dating Site"
The Divorced Singles Club has been created to help people who have been divorced find meaningful, long-term relationships with other widowed, separated, or divorced people, or simply other like-minded singles.
AD

Divorced Singles Chat
Meet Divorced Singles Who Want to Chat
Divorce can be a stressful thing to go through and sometimes people have a rough time moving forward afterwards. But the truth is, sometimes a marriage just isn't meant to be and that's okay. Everybody deserves a second chance and that's why Divorced Singles Chat has been built. Join today and start meeting new people!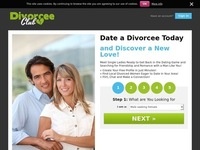 Divorcee Club
Date a Divorcee Today
If you are a divorced man or woman looking to enter the dating scene again after many years in order to meet understanding people for love, friendship or adventure then Divorcee Club could be the site for you.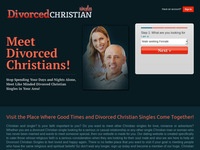 Divorced Christian Singles
Meet Divorced Christians!
If you are a single divorced Christian and your faith is important to you, then you may want to join Divorced Christian Singles where you can meet others who have, in some ways, experienced the same issues you have experienced. Of course, every divorce is unique and specific to the people involved, but being on a site where everyone has a shared experience, however unique, can help break the ice. Join today and maybe you will meet someone special!

Divorced Catholics Dating
Meet Local Catholic Divorcees!
"Connect With Divorced Catholics Today! Find Others Who Share Your Faith and Experiences and Go Out Tonight!"

Dating Divorced
Next!
Meet Divorced Women & Men Ready to Date! Join To See Who Wants to Connect For Friendship, Romance, and Love.

Divorce Chat City
Meet New People On Divorce Chat City!
Divorce can be difficult and tricky. Friendships are often split. New friends can be hard to make depending on how long you've been married. The first step to dating is to meet new people and to, at least, start chatting. Divorce Chat City is filled with people who are in the same situation.
AD

Divorced Dating Agency
Where Divorcees Meet Online
If you are divorced and looking to meet other divorcees online, then Divorced Dating Agency is a great place to start. Join for free and start browsing all the divorcees in your local area who are looking for love, dating and romance (again)!
Meet Divorced Singles
Meet Divorced Singles Now
If you are looking for a site with a great design and a lot of features, Meet Divorced Singles may be the site for you. Join today to see if the members on the site are as interesting and engaging as the site itself.
Divorced Free And Single
Find Local Divorced Singles
Divorced Free And Single is exclusively for men and women who are ready to start dating again after having ended a long term relationship. If you are looking for other divorced singles, join today!
Divorced People Meet
Meet Divorced Singles Near You Today
As part of the larger 'People Meet' network, Divorced People Meet has a sizeable number of members. If you are interested in joining a site that is part of a much larger network, this could be the site for you.
Single And Divorcees
"Meet Divorced Singles Easily"
Single And Divorcees has been designed to help you meet people easily and start a new relationship with a divorced and single partner.
*Sites listed on this page are a combination of ads, affiliate related Sites and general non-partnership related sites that match the theme of Divorced Passions.